Book Review: Still Alice by Lisa Genova
---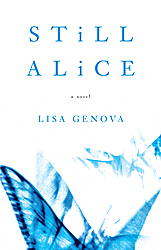 Publisher: Simon and Schuster
Published: July 2007
Genre: Psychology, Medical, Contemporary
Synopsis:
Alice Howland is proud of the life she worked so hard to build. At fifty years old, she's a cognitive psychology professor at Harvard and a world-renowned expert in linguistics with a successful husband and three grown children. When she becomes increasingly disoriented and forgetful, a tragic diagnosis changes her life–and her relationship with her family and the world–forever.
At once beautiful and terrifying, Still Alice is a moving and vivid depiction of life with early-onset Alzheimer's disease that is as compelling as A Beautiful Mind and as unforgettable as Judith Guest's Ordinary People.
***
Another Psychology book that I love. Reading like these makes me more aware and should look closely on illness especially Alzheimer's. Awareness is a must so that we can't judged them easily why they're like that and why he/she isn't normal.
Alice Howland she has everything, a perfect family and a stable job. But when she discovered that she has an early on-set Alzheimer's Disease , it will changed her life. I've never thought that there's an early on-set of Alzheimer's Disease. And it makes me cry to see how hard it is to them and the families. It's a shocking news when your one of your family has an incurable disease. I admired her family especially Lydia and Anna, because they can make a way to take care of their mom. And I don't like the way her husband acts, because for me it's like he's distancing himself, since you can see your wife is struggling.
I haven't read some of Lisa Genova's books but I will read them. It's also about Medical. Lisa Genova is the best. Amazing book.
So, it became a movie starring Julianne Moore as Alice Howland and it was released December 2014. And I've seen the movie and she's amazing, no wonder she won awards for portraying Alice Howland.
Rating: 5/5