Book Review: City of Bones and City of Ashes by Cassandra Clare
---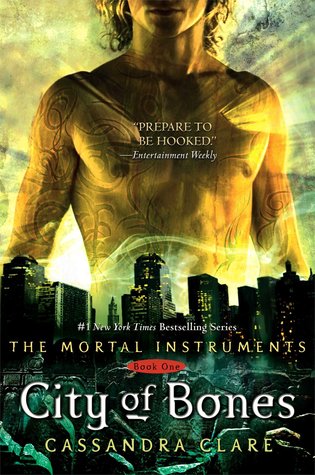 Publisher: Simon & Schuster                         Simon & Schuster
Published: March 2007                                 March 2008
Genre: Fantasy, Supernatural, YA                 Fantasy, Supernatural, YA
Add it to your Goodreads shelf                  Add it to your Goodreads shelf
Synopsis: 
City of Bones
When fifteen-year-old Clary Fray heads out to the Pandemonium Club in New York City, she hardly expects to witness a murder― much less a murder committed by three teenagers covered with strange tattoos and brandishing bizarre weapons. Then the body disappears into thin air. It's hard to call the police when the murderers are invisible to everyone else and when there is nothing―not even a smear of blood―to show that a boy has died. Or was he a boy?
This is Clary's first meeting with the Shadowhunters, warriors dedicated to ridding the earth of demons. It's also her first encounter with Jace, a Shadowhunter who looks a little like an angel and acts a lot like a jerk. Within twenty-four hours Clary is pulled into Jace's world with a vengeance, when her mother disappears and Clary herself is attacked by a demon. But why would demons be interested in ordinary mundanes like Clary and her mother? And how did Clary suddenly get the Sight? The Shadowhunters would like to know…
Exotic and gritty, exhilarating and utterly gripping, Cassandra Clare's ferociously entertaining fantasy takes readers on a wild ride that they will never want to end.
City of Ashes
Clary Fray just wishes that her life would go back to normal. But what's normal when you're a demon-slaying Shadowhunter, your mother is in a magically induced coma, and you can suddenly see Downworlders like werewolves, vampires, and faeries? If Clary left the world of the Shadowhunters behind, it would mean more time with her best friend, Simon, who's becoming more than a friend. But the Shadowhunting world isn't ready to let her go — especially her handsome, infuriating, newfound brother, Jace. And Clary's only chance to help her mother is to track down rogue Shadowhunter Valentine, who is probably insane, certainly evil — and also her father.
To complicate matters, someone in New York City is murdering Downworlder children. Is Valentine behind the killings — and if he is, what is he trying to do? When the second of the Mortal Instruments, the Soul-Sword, is stolen, the terrifying Inquisitor arrives to investigate and zooms right in on Jace. How can Clary stop Valentine if Jace is willing to betray everything he believes in to help their father?
In this breathtaking sequel to City of Bones, Cassandra Clare lures her readers back into the dark grip of New York City's Downworld, where love is never safe and power becomes the deadliest temptation.
***
I will combine my review of City of Bones and City of Ashes.
At first, I was hesitant whether I will read it or not since it will have a TV series which will premiere on January 2016 and because it's book is so thick. Since I can't wait, I give it a shot. I love this kind of genre fantasy and there's a vampire and werewolf and demons and angels. This is the first time that I read this kind of Genre. And I remember here "Twilight" though I haven't read it , I only watched the movie.
City of Bones is the first book in the series. Clary was in the Pandemonium Club with her Best friend, Simon. She saw murder in there and she's the only one who can see them. Clary Fray's meeting with the Shadowhunters (Demon Slayer) will make her life twisted and especially when her mom is missing. While I'm reading this book, my heart beats faster because of the suspense and the action. My favorite part here is when Clary, Jace, Isabelle, Alec and Simon went to the party of Magnus Bane because of Clary wants to know about herself, and Simon drink in the party and he became a rat. I laugh out loud because it's so funny and especially the motorcycle of vampires, I love that. And you know what sucks. When Clary and Simon already fell in love to each other and at the end they found out that they're brother's and sister's. OH MY GOD! I don't know what to say.
City of Ashes is the second book in the series. Huge thanks to my Professor for lending me her book. This is better than the City of Bones and I really really love it. My favorite character here is Magnus Bane. YES! Magnus Bane. More Magnus Bane in the second book and I enjoyed it especially when they get Jace in exchange of Alec, that's funny. Magnus Bane is the high warlock in Brooklyn. And also I enjoyed the battle between Shadowhunters and Valentine. It's so hard when you fall in love to someone and you found out that she's your brother, Clary and Jace my heart aches for them.
I think Valentine is not really dead. Hmm. Maybe not. I'll figure it out when I start reading City of Glass.
Before the Tv Series come out, you should read these first.
Rating on City of Bones: 4/5
Rating on City of Ashes: 5/5