Book Review: Anna and the French Kiss, Lola and the Boy Next Door and Isla and the Happily Ever After by Stephanie Perkins
---
Anna and the French Kiss
Publisher: Dutton
Published: December 2010
Genre: Contemporary, YA, Romance
Add it to your Goodreads Shelf
Synopsis:
Anna is looking forward to her senior year in Atlanta, where she has a great job, a loyal best friend, and a crush on the verge of becoming more. Which is why she is less than thrilled about being shipped off to boarding school in Paris–until she meets Étienne St. Clair. Smart, charming,beautiful, Étienne has it all…including a serious girlfriend.
But in the City of Light, wishes have a way of coming true. Will a year of romantic near-misses end with their long-awaited French kiss?
***
Thanks for my friend for recommending Anna and the French Kiss and for letting me borrow her book. The story is set to Paris, France. And I'm in awe, I felt like I'm in the Paris. Everybody loves Paris. At first I love it but when Etienne broke up with her girlfriend and fall in love to Anna ever since, I was mad. But then I realize, there's no need to get mad because of what happened on Etienne and Ellie( his ex- girlfriend ). Because I saw on Etienne he's madly in love to Anna and it's so cute.
Rating: 4/5
Lola and the Boy Next Door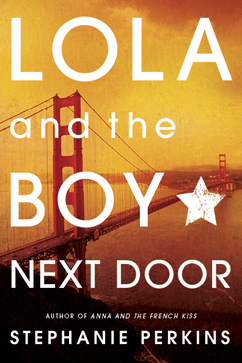 Publisher: Dutton
Published: September 2011
Genre: Contemporary, YA, Romance
Add it to your Goodreads Shelf
Synopsis:
Lola Nolan is a budding costume designer, and for her, the more outrageous, sparkly, and fun the outfit, the better. And everything is pretty perfect in her life (right down to her hot rocker boyfriend) until the Bell twins, Calliope and Cricket, return to the neighborhood. When Cricket, a gifted inventor, steps out from his twin sister's shadow and back into Lola's life, she must finally reconcile a lifetime of feelings for the boy next door.
***
The story of Lola who has two fathers and loves to wear a wig, set in California. This is the best book of Stephanie Perkins, I absolutely love this story. I have a crush on Cricket Bell( weird name right? Why does Stephanie named him Cricket? ). Lola has a rocker boyfriend who is older than her. Cricket is back in town. Lola and Cricket has a past and she's not ready to reconcile with him. But the thing is, she can see Cricket on the next house. I love how Cricket loves his family and he's ready to sacrifice just to support his sister, Calliope Bell, in her skating tournament. I love the flow of the story. And there's a cameo here of Anna and Etienne. They're the workmates of Lola in the Cinema and Etienne and Cricket are in the same school in College.
Rating: 5/5
Isla and the Happily Ever After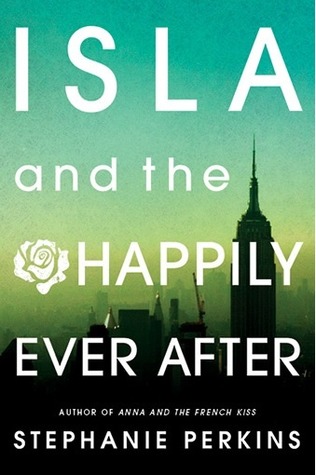 Publisher: Dutton
Published: August 2014
Genre: Contemporary, YA, Romance
Add it to your Goodreads Shelf
Synopsis:
Hopeless romantic Isla has had a crush on introspective cartoonist Josh since their first year at the School of America in Paris. And after a chance encounter in Manhattan over the summer, romance might be closer than Isla imagined. But as they begin their senior year back in France, Isla and Josh are forced to confront the challenges every young couple must face, including family drama, uncertainty about their college futures, and the very real possibility of being apart.
Featuring cameos from fan-favorites Anna, Étienne, Lola, and Cricket, this sweet and sexy story of true love—set against the stunning backdrops of New York City, Paris, and Barcelona—is a swoonworthy conclusion to Stephanie Perkins's beloved series.
***
Isla, her name is eye-la not Is-la, It's cute right. Josh and Rashmi broke up. When Josh and Isla meet at Manhattan, there will be romance going on between them. I know it's hard not to think of your boyfriend's ex girlfriend and you felt jealous. Sorry guys, but I don't like the flow of the story. I only love here is the place, Paris and when Josh and Isla traveled in Spain. And then, when Anna and Etienne, Lola and Cricket is in Paris together with Josh and Isla and especially their friend Meredith. It's too cute all the characters are in the last book and they are friends.
The thing about Stephanie Perkins is that her story is all about places and fall in love there and it's cute. I love it.
Rating: 3/5