The Storm by Virginia Bergin
---
THE STORM:
DEADLY TO THE LAST DROP .
Ninety-seven percent of the population is dead. And the killer rain keeps falling. Ruby's not sure she can make it on her own much longer. So when a chance encounter leads her to a camp with the last boy she may ever kiss (it's not easy to date during an apocalypse), Ruby gratefully accepts the army's protection.
But safety comes with a price: If Ruby wants to stay, she must keep her eyes—and her mouth—shut.
Except Ruby stumbles across a secret she can't possibly keep. Horrified, she flips out and fights back—only to make the most shocking discovery of all…
Praise for H2O:
"Creepy and realistic. H2O left me thirsting for more."
—Kristen Simmons, author of Article 5 and Breaking Point
"Ruby's candid, addicting narration brought this terrifying and wholly plausible story to life. This is a book you'll devour all at once—from the safety of your umbrella!" —Jessica Khoury, author of Origin and Vitro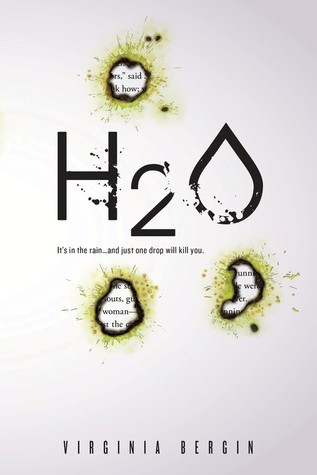 H2O
It's in the rain…and just one drop will kill you.
They don't believe it at first. Crowded in Zach's kitchen, Ruby and the rest of the partygoers laugh at Zach's parents' frenzied push to get them all inside as it starts to drizzle. But then the radio comes on with the warning, "It's in the rain! It's fatal, it's contagious, and there's no cure."
Two weeks later, Ruby is alone. Anyone who's been touched by rain or washed their hands with tap water is dead. The only drinkable water is quickly running out. Ruby's only chance for survival is a treacherous hike across the country to find her father-if he's even still alive.
---
THE AUTHOR:
Virginia Bergin works as a writer for TV, eLearning, and corporate projects. Most recently, she has been working in online education, creating interactive courses for The Open University. She lives in Bristol, England.
Virginia Bergin Website | Twitter
*Click the Rafflecopter link to enter the giveaway*
*FOR US ONLY