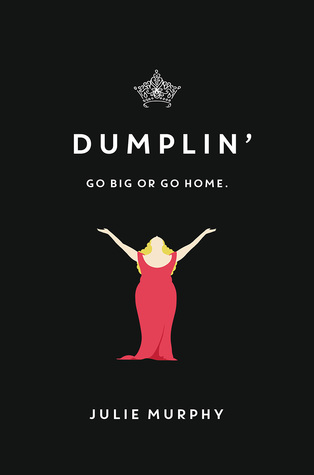 Publisher: Balzer + Bray
Published: September 2015
Genre: Young Adult, Contemporary, Humor
Rating: 5/5
Synopsis:
Self-proclaimed fat girl Willowdean Dickson (dubbed "Dumplin'" by her former beauty queen mom) has always been at home in her own skin. Her thoughts on having the ultimate bikini body? Put a bikini on your body. With her all-American beauty best friend, Ellen, by her side, things have always worked…until Will takes a job at Harpy's, the local fast-food joint. There she meets Private School Bo, a hot former jock. Will isn't surprised to find herself attracted to Bo. But she is surprised when he seems to like her back.
Instead of finding new heights of self-assurance in her relationship with Bo, Will starts to doubt herself. So she sets out to take back her confidence by doing the most horrifying thing she can imagine: entering the Miss Clover City beauty pageant—along with several other unlikely candidates—to show the world that she deserves to be up there as much as any twiggy girl does. Along the way, she'll shock the hell out of Clover City—and maybe herself most of all.
With starry Texas nights, red candy suckers, Dolly Parton songs, and a wildly unforgettable heroine—Dumplin' is guaranteed to steal your heart.
***
"Very funny and relatable"
I knew Dumplin' when I've read the Buzz Books YA Fall/Winter 2015.
A story about friendships and self-love. There's no way you will not laugh reading this story. The ending left me in awe.
" I know people stare, but they can't blame me for wanting to cool off. And why it should even matter? What about having huge, bumpy thighs means that I need to apologize?"
Willowdean Dickson is our protagonist. A sel-proclaimed fat girl who loves to listen to Dolly Parton song's. What I love about her is her confidence, she's brave enough to join in a beauty pageant and she's funny. It's impossible to not love her. She's my spirit animal. Ellen is her best friend and opposite of her. She's tall, blond, and sexy. I love their friendships because it's WE HAVE EACH OTHER BACK. In every friendships, it's impossible to avoid the fight. And that's what happened to them. They got a fight.
" Good friendships are durable. They're meant to survive the gaps and the growing pains."
Bo and Mitch, they're the guys who likes Will. But I love Bo more. *squeal* Everytime I read the conversation between Bo and Will, I CAN'T STOP GIGGLING. Bo is a co-worker of Will at Harpy's. They had a relationship but it was ended but Bo still loves her and still pursuing her. On the other hand, Mitch is her classmate. He's a sweet guy but there's no sparks between Mitch and Will.
" Sometimes the perfection we percieve in others is made up of a whole bunch of tiny imperfections."
It's not about body shaming, it's about loving yourself and be comfortable on your skin whether your fat or skinny. It's not a hindrances to try new things. Our world will be boring without our imperfections.
It's perfect to be a movie.