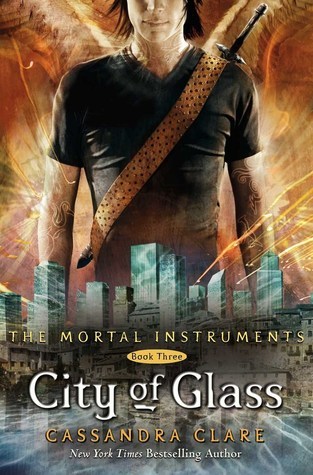 Publisher: Margaret K. McElderry Books(Simon & Schuster)
Published: March 2009                                                             
Genre: Urban Fantasy, YA   
Rating: 5/5
Synopsis:
To save her mother's life, Clary must travel to the City of Glass, the ancestral home of the Shadowhunters – never mind that entering the city without permission is against the Law, and breaking the Law could mean death. To make things worse, she learns that Jace does not want her there, and Simon has been thrown in prison by the Shadowhunters, who are deeply suspicious of a vampire who can withstand sunlight.
As Clary uncovers more about her family's past, she finds an ally in mysterious Shadowhunter Sebastian. With Valentine mustering the full force of his power to destroy all Shadowhunters forever, their only chance to defeat him is to fight alongside their eternal enemies. But can Downworlders and Shadowhunters put aside their hatred to work together? While Jace realizes exactly how much he's willing to risk for Clary, can she harness her newfound powers to help save the Glass City – whatever the cost?
Love is a mortal sin and the secrets of the past prove deadly as Clary and Jace face down Valentine in the third installment of the New York Timesbestselling series The Mortal Instruments.
***
It's the third book of the Mortal Instrument and it's one of my favorite part in these series.
Shadowhunters went to Idris because of what happened on Valentine. Jace don't want Clary to join them in fear of people there will know her ability to create new runes. 
What frustrates me here was that Clary and Jace are always fighting. And Valentine isn't dead. It's crazy to read that from the first book up to the third book, Valentine is the center of this and I want to punch him. LOL
Sebastian Verlac and Aline are the new characters. I swoon over at Sebastian but when I found out he's evil and he's Jonathan Morgenstern. I was shocked and I want to throw up. I'm starting to love Isabelle Lightwood because she's a badass. Okay, I can't calm myself everytime I read about Magnus and Alec.*squeal* 
"Clary, since the first time I saw you, I have belonged to you completely. I still do, If you want me."
I thought there's no chance on Clary and Jace but OH MY GOSH!! A REVELATION ON THEM MAKES ME HAPPY AND I WANT TO JUMP!! 
I can't believe that the ending of this story is like a happy ending, because there's a fourth book.