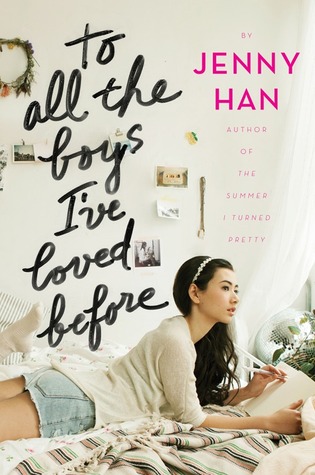 Publisher: Simon and Schuster for Young Readers
Published: April 2014
Genre: Young Adult, Contemporary, Romance
Rating: 5/5

Synopsis: 
To All the Boys I've Loved Before is the story of Lara Jean, who has never openly admitted her crushes, but instead wrote each boy a letter about how she felt, sealed it, and hid it in a box under her bed. But one day Lara Jean discovers that somehow her secret box of letters has been mailed, causing all her crushes from her past to confront her about the letters: her first kiss, the boy from summer camp, even her sister's ex-boyfriend, Josh. As she learns to deal with her past loves face to face, Lara Jean discovers that something good may come out of these letters after all.
I haven't read some of Jenny Han's books, it's my first time to read it. I've heard so many good feedbacks. Jenny Han never failed to amaze her readers. Well, I'm one of them.
To All the Boys I've Loved Before is not about the boys sent Lara Jean's love letter but Lara Jean's wrote letters for the boys she had crush on or inlove.
This story made me laugh , heartbroken and it's relatable because we experiencing this kind of feeling of having a crush on someone and having a brothers and sisters.
The characters were great. Lara Jean is our protagonist here. Lara Jean is Funny and Quirky and that's what I love her. I also love her family.Their mother died and that's why Margo (her eldest sister) and their father took care of them. Margot is her eldest sister and I can relate to her because as an Eldest sister you should carry the responsibility and I love her because she wants to be a good example to her sister's and even though it's hard for her to be far away to her famiIy , she wants to be strong. And the bonding of these sister's Margot, Lara Jean and Kitty are so amazing. Sometimes we are irritated to our siblings and usually we fight but still we love them.
" We are sister's. and there's nothing she or I can ever say or do to change that."
Josh Sanderson is Margot's boyfriend and also Lara Jean's crush and very close to their family. I don't have heart melting to him when there's a scene of Lara /jean and him. Because he's like a brother to her. And I love Peter than him, Peter Kavinsky is part of the Lacrosse team and the perception of him were arrogant and a player. When he and Lara Jean were together I can't stop smiling because I love them both. There's sparks between them. And Peter is a sweet guy.
This will not be the last book that I'll read of Jenny Han. This deserves a 5/5.