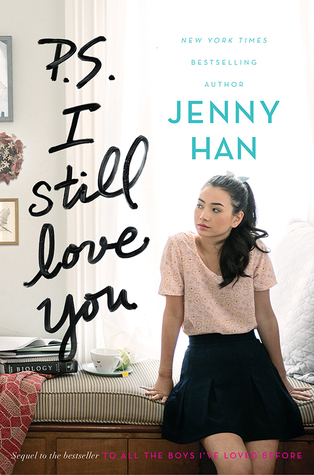 Publisher: Simon and Schuster for Young Readers
Published: May 2015
Genre: Young Adult, Contemporary, Romance
Rating: 4/5
Synopsis:
Lara Jean didn't expect to really fall for Peter.
She and Peter were just pretending. Except suddenly they weren't. Now Lara Jean is more confused than ever.
When another boy from her past returns to her life, Lara Jean's feelings for him return too. Can a girl be in love with two boys at once?
In this charming and heartfelt sequel to the New York Times bestseller To All the Boys I've Loved Before, we see first love through the eyes of the unforgettable Lara Jean. Love is never easy, but maybe that's part of what makes it so amazing.
Are you a Team Peter or Team Josh?
This is the sequel from a book of To All the Boys I've Loved Before.  The Contract should the name of this sequel not PS I Still Love You.
I honestly love this duology. I love the flow of the story and how it goes. Though there's a new character, well not really new and he's name is Josh. Josh is one of the boys Lara Jean's wrote a letter. And there's a rival between Josh and Peter. I don't know who would I chose, either Peter or Josh. Because both guys made me euphoric. And Lara Jean has a choice who would she chose. First of all, I am frustrated to Peter. I have this feeling that Peter isn't really serious to her, I mean because he's with Gen and I felt bad for Lara Jean because she's the girlfriend now. That's the problem between Peter and Lara Jean, they don't talk about their problems and always hiding it. Josh on the other hand, well he's kind of a cool guy, a savior of Lara Jean when she's in trouble with Peter. I like him. And it's hard for me who would I choose.(Okay, I'm not Lara Jean).
As for the friendship of Genevieve and Lara Jean. I honestly don't like Genevieve, from the first book she's bitch and in the second she's starting to get under my skin.
| Ours was the kind of friendship that makes sense as a kid but not so much now that we're older. I suppose you can't hold on to old things just for the sake of holding on.
Though at the end of the story, Lara Jean wants to make up with Gen but she's still a bitch so she didn't want to.
| People come in and out of your life. For a time they are your world; they are everything. And then one day they're not.
Her family is adorable and really supportive at her.  And that's what I admired on that values. Even though some things don't work out well. There's a reason behind it. I recommended this story if you love stories a Happily-ever-after and wants some happy family.