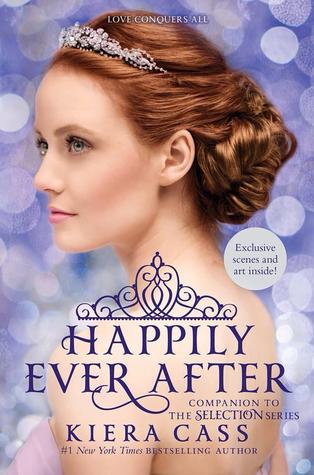 Published on October 13, 2015 by Harper Teen
Genre: YA, Romance, Novella
Rating: ★★★
Synopsis:
The contents of Happily Ever After are as follows:
-The Prince (with the two bonus chapters), Maxon's novella
-The Guard, Aspen's novella
-The Queen, Amberly's novella
-The Favorite, Marlee's novella
-Three scenes from Celeste's POV
-Lucy's scene (bonus scene from The One)
-The bonus epilogue
-Where are they now?
-A map
-Various illustrations
---
Review:
I love this book because it's compilation of the e-novellas and Kiera Cass added the other selected girls from the Selection series they're Natalie, Elise, Kriss,and Celeste. However, maybe you're wondering why I rate this to 3 stars and love it. That's because why did Kiera still add the prince and the guard well in fact it has already a book. I just don't get it. It's okay that she didn't include them.
Reading the stories of the other selected girls after the one has an overwhelming effect for me because there I saw what the Selection lead their life and what happened to them after Maxon chose America. Are they successful or not? My favorite part of the book is the story of the Favorite ( story of Marlee and Carter), After the One( story of Maxon and America after the wedding) and Where are they now? ( the short stories of Natalie, Elise, and Kriss).
Let's talk about the characters here. Don't worry I'll not spoil everything.
The queen– it's the story of Maxon's mother, Queen Amberly. Queen Amberly looks weak aside from her health, her personality is so good that she will do everything for King Clarkson. Sweet isn't right? but I'm not happy about it.
The prince– there's no way I can't love Maxon's point of view. The feels!!
The guard– sometimes I pitied him and not.
Celeste– a self- centered bitch. There's a scene here that describes what she really wants.
The favorite– Marlee and Carter ? Why not. They're my 2nd favorite couple.
The maid– Aspen and Lucy's story. We saw on the Heir that they're married. Here you will see what happened before Aspen confess his feelings.
Elise, Natalie, and Kriss– they're in the Where are they now? And my favorite among them is Kriss.
It felt nostalgic reading this book. I remembered the times when I read the Selection series. It's just I really adored Kiera Cass and this series. So much feels in my favorite couples. The pictures and map are also adorablee!!
BUTTT………
I hope that the authors shouldn't release the e-novellas if they planning to release a book contains of the e-novellas.
What are your thoughts on Happily Ever After? Are you satisfied or not? Who's your favorite character?