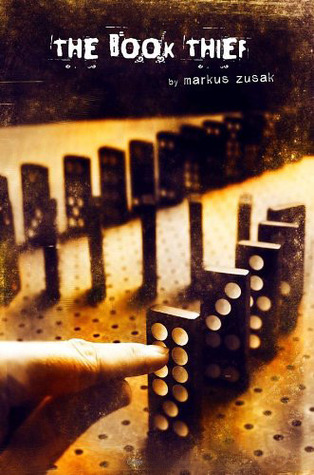 Published on March 14, 2006 by Knopf Books for Young Readers
Genre: Historical Fiction, Young Adult
My Rating: ★★★★★
Synopsis:
It's just a small story really, about among other things: a girl, some words, an accordionist, some fanatical Germans, a Jewish fist-fighter, and quite a lot of thievery. . . .
Set during World War II in Germany, Markus Zusak's groundbreaking new novel is the story of Liesel Meminger, a foster girl living outside of Munich. Liesel scratches out a meager existence for herself by stealing when she encounters something she can't resist–books. With the help of her accordion-playing foster father, she learns to read and shares her stolen books with her neighbors during bombing raids as well as with the Jewish man hidden in her basement before he is marched to Dachau.
This is an unforgettable story about the ability of books to feed the soul.
Review:
Book review is an understatement word for this book. So I wanted to do a book talk, since it's been 11 years ago it was released. It's my first time to read this kind of story set by the Hitler time and the mere fact that I'm not fond of history stories. But this book gives me an impression to read more about Hitler stories or war stories.
Liesel and Rudy…
At first I was confused because the narration of story is different from the other books that I've read. Liesel is very relatable to the readers because she loves to read to and her eagerness to learn makes me love her. I found Rudy cute because he always asks for a kiss to Liesel and everytime there's a scene Rudy asks for a kiss, I can't help not to smile because it was really really cute.
Journey…
This journey of Liesel from her brother died to became an orphan and there she met her foster parents Rosa and Hans Hubermann and her Jew friend, Max. A cute neighborhood named Rudy. A mayor's wife who also happens to love books too and Liesel and Ilsa became a friend, where she steals books. Then all her loved ones died. It's so sad and I cried at the ending. It's hard to not think about it because it really touched my soul. This kind of feeling is different from the other stories that I've read. This book is really thought provoking and had a big impact on my life.
Awe inspiring…
This story is awe inspiring. And what I've learned from Liesel is that her love to everyone is undying. She's too young to understand things but you can't hear from her that she's regret that this is her life even though she can't meet anymore her true mother. And that's what makes her brave. To think that living in a war is scary thought still she's optimistic.
Markus Zusak you're the best!
What are your thoughts on this book?