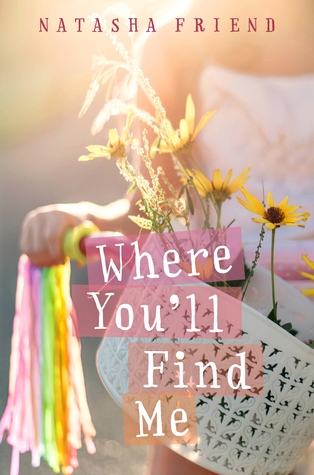 Published on March 8, 2016 by Farrar, Straus and Giroux (BYR) 
Genre: Middle Grade, Realistic Fiction
Rating: ★★★★
Synopsis:
The first month of school, thirteen-year-old Anna Collette finds herself…
Dumped by her best friend, Dani, who suddenly wants to spend eighth grade "hanging out with different people."
Deserted by her mom, who's in the hospital recovering from a suicide attempt.
Trapped in a house with her dad, a new baby sister, and a stepmother young enough to wear her Delta Delta Delta sweatshirt with pride.
Stuck at a lunch table with Shawna the Eyebrow Plucker and Sarabeth the Irish Stepper because she has no one else to sit with.
But what if all isn't lost? What if Anna's mom didn't exactly mean to leave her? What if Anna's stepmother is cooler than she thought? What if the misfit lunch table isn't such a bad fit after all?
With help from some unlikely sources, including a crazy girl-band talent show act, Anna just may find herself on the road to okay.
Review:
(Source: I would like to thank Net Galley and to the publisher. This will not affect my review.)
I love reading books who talks about mental illness because I'm aware on one's illness that I didn't knew before. Though I admit I can't relate to the characters but one thing I know for sure that everyone has their own shit.
Anna Collette is a middle school Student, she has difficulty coping with other people because she of her problems. 1. Her best friend Dani left her for new popular group in school. 2. Her dad has a new family. 3. Her mom is in psych ward because of the Bipolar 2.  I felt bad for her because she can't tell to other people what her true feelings is. She always remembers the good times of her family. In every divorce parents, the children who are most affected.
Sometimes we hate and not trusting the people around us because of the bad experiences but don't be afraid to open your heart. Someday in your life, there's someone who you can lean on. I know how hard the problem is. But you are not alone.
This book is not depressing. I saw what it's like to have a parent suffering from mental illness like Bipolar 2. This gives me a new knowledge about Bipolar 2 because I didn't know that it is existed.
Kudos to Ms. Natasha Friend for writing this book. Its an eye opener and remember that no one is perfect and everyone has their own shit.
At the end of the book there is a telephone hotline if you think your parents are suicidal. It is twenty- four hour available. I just want to share with you guys because this is serious matter.
National Suicide Prevention Lifeline
1-800-273-TALK (8255)
1-800-784-2433
Covenant House Nineline
1-800-999-9999
Boys Town Hotline
1-800-448-3000
Remember, depression and other types of mental illness are treatable. Don't hesitate to ask for help. And you shouldn't be ashamed if one of your family members has a mental illness.