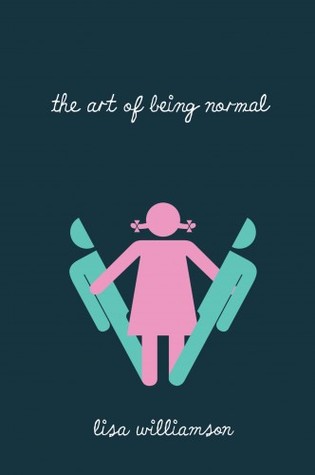 Published on January 2015 ( UK ) and May 2016 ( US ) by David Fickling Books (UK)  Macmillan Children's(US)
Genre: Contemporary, LGBT, YA
Rating: ★★★★★
Synopsis:
Two boys. Two secrets.
David Piper has always been an outsider. His parents think he's gay. The school bully thinks he's a freak. Only his two best friends know the real truth – David wants to be a girl.
On the first day at his new school Leo Denton has one goal – to be invisible. Attracting the attention of the most beautiful girl in year eleven is definitely not part of that plan.
When Leo stands up for David in a fight, an unlikely friendship forms. But things are about to get messy. Because at Eden Park School secrets have a funny habit of not staying secret for long…….
Review:
(Source: thanks to Net Galley and Macmillan. This will not affect my review.)
It's my first time to read an LGBT book. And I loved it! I questioned myself, "Why I didn't read these kind of books before"?
The story was told on two point of views and two different life struggles. First is David, he's a guy but he wants to be a girl. He has a perfect and happy family. But, what is the problem of him? He has a difficulty to tell to his parents that he wants to be a girl. Second is Leo, at first I'm confused why is it Leo is very distant to his family and he's completely alone. Unlike David, Leo's family is different. He doesn't have a father so that he is eager to find him. His mother might not be perfect to me but while reading the story of Leo, I understand her. Leo has a two sister. What is the problem of him too? He was born a girl.
I know. It was jaw dropping. I was surprised too. I reread it because I didn't expect the story of Leo. I thought Leo is totally a guy. I admit reading this kind of book is an eye opener to me since some people didn't accept the LGBT/Trans Gender people in the society. Don't get me wrong, I didn't hate them, I accept them in our society.
Lisa Williamson's writing the story is perfect, it's realistic because we can see the two different lives and their differences and how they connect to each other. It's really happening in our society, especially in the school wherein people like Leo and David were bullied. I got a chance to feel what they're experiencing. I felt sad, and furious to the people who judging them.
I hope you got a chance to read this book because it's really perfect. I absolutely adore this book. If you're looking for a book about LGBT or if you want to try an LGBT book, you should DEFINITELY READ THIS BOOK. THIS BOOK IS AWE-INSPIRING. THIS BOOK WILL NOT DISSAPOINT YOU, TRUST ME!