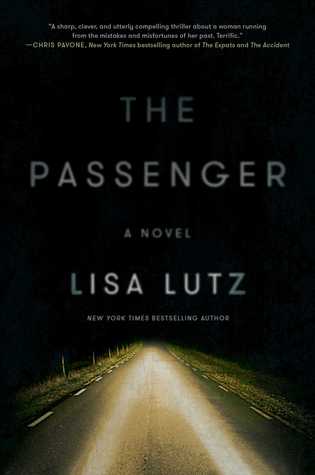 Published on March 1, 2016 by Simon & Schuster
Genre: Mystery, Thriller, Fiction
Rating: ★★★
Synopsis:
From the author of the New York Times bestselling Spellman Files series, Lisa Lutz's latest blistering thriller is about a woman who creates and sheds new identities as she crisscrosses the country to escape her past: you'll want to buckle up for the ride!
In case you were wondering, I didn't do it. I didn't have anything to do with Frank's death. I don't have an alibi, so you'll have to take my word for it…
Forty-eight hours after leaving her husband's body at the base of the stairs, Tanya Dubois cashes in her credit cards, dyes her hair brown, demands a new name from a shadowy voice over the phone, and flees town. It's not the first time.
She meets Blue, a female bartender who recognizes the hunted look in a fugitive's eyes and offers her a place to stay. With dwindling choices, Tanya-now-Amelia accepts. An uneasy―and dangerous―alliance is born.
It's almost impossible to live off the grid today, but Amelia-now-Debra and Blue have the courage, the ingenuity, and the desperation, to try. Hopscotching from city to city, Debra especially is chased by a very dark secret…can she outrun her past?
With heart-stopping escapes and devious deceptions, The Passenger is an amazing psychological thriller about defining yourself while you pursue your path to survival. One thing is certain: the ride will leave you breathless.
Review:
(Source: thanks to Net Galley and Simon & Schuster for granting my request. This will not affect my reviews.)
Tanya is on the run because her husband Frank died. While on her journey she used different names in every places she went. I described Tanya as the wrecked girl, confusing. As the story goes I saw the deep meaning why Tanya always running away every time she gets in trouble. I felt sorry for her because she doesn't deserve to be treated that way. She didn't choose this way but she was forced to do this. While on her journey she met Debra. Debra is cold and somewhat has a soft spot for Tanya.
Have you ever felt when the Thriller book were screwing your mind and you started to write down the relation of stories and started to questioned it? That's how I felt while reading this book. I filled many theories while reading this book and I'm grateful to see that some of my theories were correct and it really blows my mind. Basically, two women were chasing by their past and the mystery behind their past are riveting. It took to 40% for me to be fully engrossed to this story.
Lutz writing the story were impressive on how the story revolves. But some of the plot were not explained better and that bugs me off.I'm a bit disappointed on this book because I have high expectations since Tanya is on the run—I didn't expect that the ending will left questions like "Is that it?'. It twisted my mind but it didn't make me feel in tense.I love reading Mystery Thriller/Psychological Thriller and I expected that this kind of genre will make my heart beats faster.