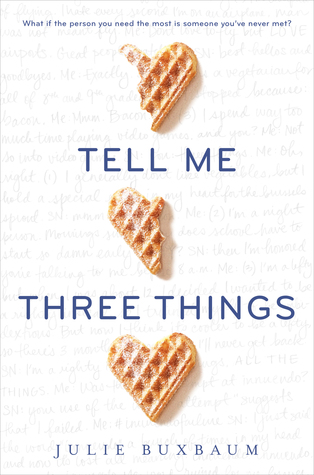 Published on April 5,2016 by Delacorte Press
Genre: Contemporary, YA
Rating: ★★★★★
ISBN: 9780399552939
Purchase here: Fully Booked
Synopsis:
Everything about Jessie is wrong. At least, that's what it feels like during her first week of junior year at her new ultra-intimidating prep school in Los Angeles. Just when she's thinking about hightailing it back to Chicago, she gets an email from a person calling themselves Somebody/Nobody (SN for short), offering to help her navigate the wilds of Wood Valley High School. Is it an elaborate hoax? Or can she rely on SN for some much-needed help?
It's been barely two years since her mother's death, and because her father eloped with a woman he met online, Jessie has been forced to move across the country to live with her stepmonster and her pretentious teenage son.
In a leap of faith—or an act of complete desperation—Jessie begins to rely on SN, and SN quickly becomes her lifeline and closest ally. Jessie can't help wanting to meet SN in person. But are some mysteries better left unsolved?
Julie Buxbaum mixes comedy and tragedy, love and loss, pain and elation, in her debut YA novel filled with characters who will come to feel like friends.
Review:
Tell me three things is a compelling book and one of the best contemporary books in YA. This is the first book of Julie Buxbaum in Young Adult.
Jessie's mom died because of cancer. When her dad has a new wife, they moved out to live in L.A with her new stepmom and stepbrother. Then, there's SN who always chats with her and she's struggling about her life because she doesn't have a new friend in her new school and her bestfriend Scarlett is far away from her.
Three things on why you should read this book:
It talks about grief. Jessie's mother died and she's having a hard time to recover from the death of her mother and she can't accept that her father has a new wife.
You will love the characters. and it makes it a page turner, because you will constantly search for SN and every page you can't stop holding your emotions like laughing, melting your heart, and also being touched of all the characters. My favorite character is Jessie because she's not a materialistic girl and although her new classmates are rich, she didn't mimic them instead she's stick on her mother's values. Also the romance in this book, I can't forget the banter between SN and Jessie. *blushing*
It has a moral story. One thing that I love in reading a contemporary book is that it has an eye opener.
It's not a depressing book. It is a book about new beginnings and to be yourself again.
I highly recommended it to everyone. You will love this book!!