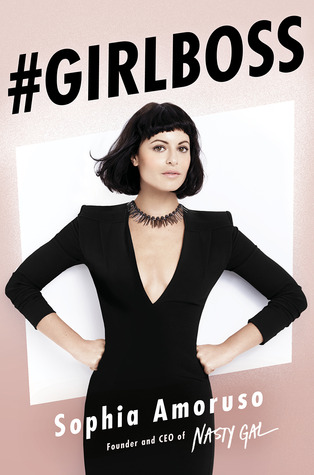 Published on May 6, 2014 by Portfolio
Genre: Non-fiction, Memoir, Motivational
Rating: ★★★★★
Synopsis:
The founder of Nasty Gal offers a sassy and irreverent manifesto for ambitious young women
At seventeen, Sophia Amoruso decided to forgo continuing education to pursue a life of hitchhiking, dumpster diving, and petty thievery. Now, at twenty-nine, she is the Founder, CEO, and Creative Director of Nasty Gal, a $100+ million e-tailer that draws A-list publicity and rabid fans for its leading-edge fashion and provocative online persona. Her story is extraordinary—and only part of the appeal of #GIRLBOSS.
This aspirational book doesn't patronize young women the way many business experts do. Amoruso shows readers how to channel their passion and hard work, while keeping their insecurities from getting in the way. She offers straight talk about making your voice heard and doing meaningful work.
She's proof that you can be a huge success without giving up your spirit of adventure or distinctive style. As she writes, "I have three pieces of advice I want you to remember: Don't ever grow up. Don't become a bore. Don't let The Man get to you. OK? Cool. Then let's do this."
Review:
It took too long for me to finish reading this book because I don't want to end this. It is inspiring and it gives me motivation on how to rock my own world. Here are the three things that I learned on #GIRLBOSS.
She didn't go to college
I was shocked when I learned that she didn't go to college because when you look at her, she is one of the successful businesswoman out there. I'm not saying that you should not go to college or stop going to school just to be a successful but it sets us an example that no matter what degree or you don't hold a degree without the passion, creative, uniqueness in life you can't be successful in life.
Passion, Creativity and Uniqueness
In her journey in selling the clothes she started selling at eBay and experiences some ups and downs and she didn't let those people who let her down to saw her that she's affected. She's driven by her passion and didn't follows the trends in the fashion industry and that's what it makes different among the other boutiques out there. She always tells to be unique and creative because that's what makes you stand out.
The past doesn't define your future
One of the shocking moments that I've learned about Sophia Amoruso is that she's a shoplifter before. I know it's crazy right? But look at her now, she has a company that has no debt. We have a crazy past and those past are the lesson to be a successful in our own way.
Being a #GIRLBOSS is the one who knows what she's good at and learn from it. You can be a #GIRLBOSS in your own way.
I highly recommended this book if you want to start your own business in the future and wants to have some motivation and inspiration and also if you are just curious about Sophia Amoruso and about how she started her business Nasty Gal. (like me lol)