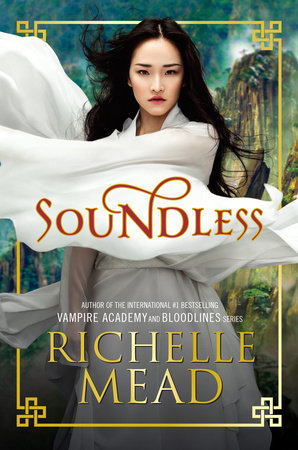 Published on November 10,2015 by Razorbill
Genre: YA, Fantasy
Rating: ★★
Synopsis:
In a village without sound…
For as long as Fei can remember, no one in her village has been able to hear. Rocky terrain and frequent avalanches make it impossible to leave the village, so Fei and her people are at the mercy of a zipline that carries food up the treacherous cliffs from Beiguo, a mysterious faraway kingdom.
When villagers begin to lose their sight, deliveries from the zipline shrink. Many go hungry. Fei and all the people she loves are plunged into crisis, with nothing to look forward to but darkness and starvation.
One girl hears a call to action…
Until one night, Fei is awoken by a searing noise. Sound becomes her weapon.
She sets out to uncover what's happened to her and to fight the dangers threatening her village. A handsome miner with a revolutionary spirit accompanies Fei on her quest, bringing with him new risks and the possibility of romance. They embark on a majestic journey from the peak of their jagged mountain village to the valley of Beiguo, where a startling truth will change their lives forever…
And unlocks a power that will save her people.
Review:
I have high expectations on this book because it was written by RICHELLE MEAD. OKAY, so I haven't read some of her past works and this is my first book that I read.
Soundless is about Fei who is an artist and her villagers are mute, deaf and some of them became blind. No one knows why it keeps happening to them. And suddenly, Fei hears everything that her villagers cannot.
So let's dig why I don't like this book:
It's boring because this world building has no appeal to me. I kept on yawning reading this and sleepy. This book is not fast paced as what I expected. Though it's intriguing because the villagers are mute, deaf, and some of them are blind and how can they surpass the challenges that they encounter especially that mining is one of the works of the villagers.
The characters are dull. Fei cares for her sister, Zhang Jing. They don't have a parents anymore. She will do anything for her sister in order to protect her. in their village, the artists have a high respect for them, they can only marry if that person is an artist too.
Slow burn romance between Fei and Li Wei. I got frustrated everytime that they have a conversation. Apparently, LI WEI loves Fei and FEI is in denial on her feelings because she should marry a fellow artist not a miner.
BUT, I GET THE MESSAGE OF THE STORY..
For me, this story is a perfect example of what you are capable of something are helpful and gives hope to the others. FEI draws on what is happening in their village and outside of the village. That art gives a message to other people.
I don't recommend this book to everyone but if you want to read this, go ahead.
What do you think of Richelle Mead's Soundless book? Have you read it? Let's talk about it.