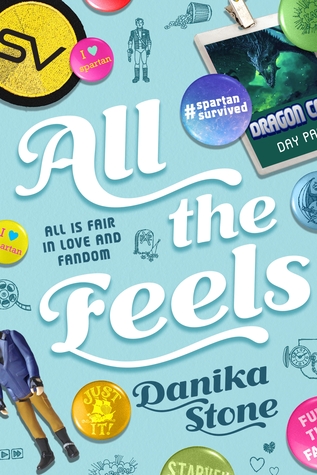 Published on June 7,2016 by Swoon Reads
Genre: YA, Contemporary
Rating: ★★★★
Synopsis:
College freshman Liv is more than just a fangirl: The Starveil movies are her life… So, when her favorite character, Captain Matt Spartan, is killed off at the end of the last movie, Liv Just. Can't. Deal.
Tired of sitting in her room sobbing, Liv decides to launch an online campaign to bring her beloved hero back to life. With the help of her best friend, Xander, actor and steampunk cosplayer extraordinaire, she creates #SpartanSurvived, a campaign to ignite the fandom. But as her online life succeeds beyond her wildest dreams, Liv is forced to balance that with the pressures of school, her mother's disapproval, and her (mostly nonexistent and entirely traumatic) romantic life. A trip to DragonCon with Xander might be exactly what she needs to figure out what she really wants.
Review:
THE FEELS is what I said after reading this because it is a perfect read for every fangirl/fanboy out there.
The story is about Liv, who is a big fan of StarVeil. She spends her time fangirling and one day after watching the StarVeil movie and her favorite character died she can't get over with the ending so that she made a video dedicated to them.
What I like about this book:
That kind of feeling when your mother disapproves on your fandom – this is really relatable and also hard because sometimes we feel like our parents doesn't approve on what we made us happy like this one (being a fangirl/fanboy). I add this reason on why I like this book because it can happen on real life situations.
This whole thing about being a fangirl/fanboy – every time I read every pages of this, I actually see myself on her especially on the times that I failed on my subjects in school because I'm too focused on my reading life.
The Dragon Con experience – OMG. This experiences like this one being in a convention either Book Con or Comic Con is really majestic!!
What I didn't like:
The love connection – a love interest between Xander and Liv doesn't appeal to me. It's just a plain for me. There's no sparks between them.
This story gives us a glimpse of how being a fangirl is. It could be really crazy on others but this is who we are. Either you're a fangirl/boy on movies, tv shows, or books, this is us. I think that without this in our life we don't have a connection in every people that we meet.
I recommend this book on everyone especially if you read the Fangirl by Rainbow Rowell.