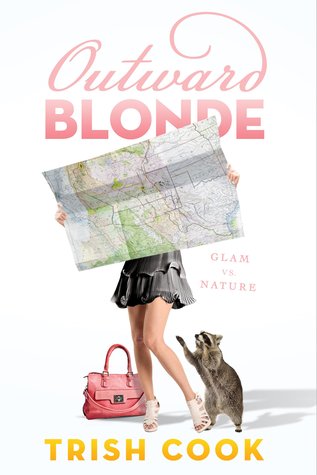 To be publish on October 18, 2016 on Adaptive Books
Genre: YA, Contemporary
Rating: ★★★★
Amazon//Goodreads//Barnes and Noble
Synopsis:
Sixteen-year-old Lizzie Finkelstein is a hard-partying socialite who lives a charmed life with her mother in Manhattan. After a public drunken sexual escapade results in both an arrest and an embarrassing viral video online, Lizzie's parents stage a late night intervention. Lizzie finds herself whisked away to Utah to learn a lesson or two about taking responsibility at Camp Smiley, a wilderness survival program for troubled kids.
Camp Smiley is a far cry from Lizzie's high society life in New York. Without her stable of luxury hair/makeup items, her teacup Pomeranian, contact with the outside world or access to social media, Lizzie must face the harsh conditions of the outdoors. Grouped with troubled campers in which she's certain she has nothing in common (except Jack, who's pretty hot), Lizzie must now learn to dig her own toilet in the woods and build a fire by rubbing two sticks together before the camp will ever let her go back to her former existence. She has a choice: get with the program, or get out of there.
Review:
(Source: I would like to thank the publisher for the e-arc of the book. This will not affect my reviews.)
One of the main reasons why I love reading contemporary novels is that in one way or the other it teaches and gives insight on the experiences that I haven't done yet or just a nostalgic feeling onto someone in the story. Most of the times, contemporary books gave me a good laugh and I loved it. The book is hilarious filled with life lessons that has an impact on teenagers. The story revolves around the life of teenager and the struggles that teenagers encounter to like family problems and friendships.
Lizzie Finkelstein is a rich, spoiled and chic girl. Her parents are divorced that's why she's rebellious and obviously goes to bar. So, her life changes when that night she went to a bar met this guy and had a video went viral and result to send her to Camp Smiley.
When the book made me laugh
Reading this story always made me laugh. Lizzie's humor is fascinating although I know that she's rebellious. Imagine when you are humiliated enough because of the video and you want to get eaten by dragons because that is really embarrassing especially when your best friend uploaded that video. Although she's rebellious, I didn't hate her since Lizzie is funny, has a comfortable bed and let's just say has a massive bedroom, and a super cute dog named Poochie.(basically, I have a soft spot for dogs). Since Lizzie was sent to Camp Smiley and she have to spend her days in the forest, it never shed off having a period (basically it's a big deal for me because why not talk about having a period. It's part of the anatomy of a girl DUH), and having an IBS.
Squad Goals or more of like SQUID Goals
Why I called them SQUID Goals? Because I'm fascinated about the friendships in this story, and there have a different types of squid and same goes in the story – there are different kinds of people. Lizzie met 4 teenagers too who also have their undesirable and immature actions that led them to Camp Smiley. They are Ari, Chandra, Sam, and Jack. Their first meet up in the Camp Smiley is not as good as what I expect obviously you hate this person and love this person. And at the first meeting, it's easy to judge a person without knowing them.
As I'm getting in depth of the characters, I figured to describe the other characters in a simple way:
ARI – loves art, sort of bad boy, and probably the heartthrob in the school.
CHANDRA – the brainy person you'll ever met and teacher's pet.
SAM – bisexual and your favorite person who will not judge you.
Jack – a nice guy and an over protective boyfriend or friend.
It's difficult for Lizzie to adapt to this lifestyle since her best friend (JEM) is like her and these people is hard for her to get into. And because of their differences, they had a great and memorable camp.
Maturity
The character development in the story is incredible and touch my feelings. You know, life of being a teenager is one of the difficult yet funny path. But it doesn't mean that we didn't deserve a second chance to all the mistakes we've done, it same goes for the story. A coming-of-age story that surely all the readers will love.
Tough times are the ones that teach us the most.

Be the person who you're meant to become.
It's thought provoking and made me think about my experiences in life, family, and friendships.