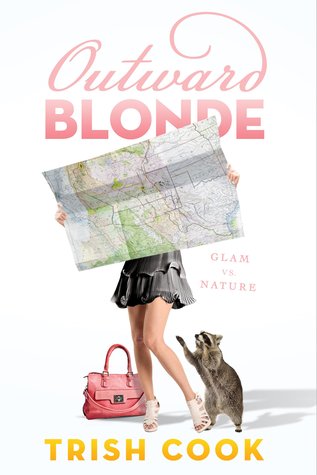 Trish Cook is the author of the Outward Blonde published by Adaptive Books. If you haven't read it – check out my review here.
Outward Blonde is about Lizzie Finkelstein is rich, and a spoiled brat. She has everything she wants for except for a happy family. Then one night, when she's busted for an underage drinking, everything will change. Forever?
It's a coming of age and hilarious story. Check it out on Goodreads, Amazon, and Barnes and Noble.
Without further ado, let's get this started.
---
1. Tell me something about yourself.
I love tough endurance sports. I've run 2 marathons, countless half marathons, I compete in Master's rowing, I've biked 150 mile weekends for charity, and I loved the Men's Health Urbanathlon (10 mile run with obstacles every few miles). I can totally see how people get up in Spartan racing and competing in Cross Fit, and guess those are probably next on my list of events to conquer.
2.  What is your favorite TV Show/s?
Right now, I'm obsessed with "This is Us" and "The Detour." Before that, "Parenthood" and "Awkward." And I am still mourning the loss of "I Just Want My Pants Back", which only lasted one season and was brilliant.
3. What is your favorite book/s?
Some recent favorites are: "Look at You Now" by Liz Pryor, "The Girl with the Lower Back Tattoo" by Amy Schumer and "Big Magic" by Elizabeth Gilbert.
4, What inspired you to write Outward Blonde?
For Outward Blonde, the inspiration came from my publisher, Adaptive Books. They have a really unique way of approaching YA books: They take unmade film projects and ask YA writers to create novels based on them. Outward Blonde was originally a movie set to star Hilary Duff.  Adaptive came to me with what they call a "spark page"—just the most basic outline of what the story is: A spoiled, rich New York girl gets in trouble and gets sent to wilderness camp. I never read the script for the movie that was never made. I just developed the story based off the spark page and had so much fun doing it.
5. Did you have any soundtracks playing while writing the book (Outward Blonde)?
I played "Super Rich Kids" by Frank Ocean and Drake's "Energy" on repeat. My kids thought I was nuts!
6. Of all the characters in the book, who among them do you relate to? Why?
I have to say Lizzie. I was very much like her as a teen—trying to portray a certain toughness on the outside that I don't actually possess. The way she finally let down her walls and allowed herself to be vulnerable with the people she loves is such a poignant leap, and one I don't think I was able to achieve until I was much older. Also, who doesn't love Bandit? He's so darn cute.
7. What is the silliest thing you ever did in your teenage years that is similar to the book?
Don't tell my mom but I may have gone to a bar in New York City when I was underage. It was called Danceteria, it was a pretty happening spot at the time, and I was convinced I'd meet Madonna there and we'd of course become BFFs. (Spoiler: Madonna still hasn't befriended me.)
8. What advice can you give to teenagers?
Dream big. Why not? You never know what you can do unless you try. So whatever it is that you secretly have always wanted to do—please just go do it. You're never too young to go for it. The time is now. If you're scared—even more reason to give it a shot. That just means you're stepping out of your comfort zone and that's okay. Be brave. Start now. Be yourself. You're awesome!
9. Are you a cat person or a dog person? Why?
I grew up with cats. I like how you kind of have to work to get in good with them, and that your effort is rewarded with purrs and licks and a built-in foot-warmer. Now I have a golden retriever dog named Murphy. He's funny and goofy and such a love, and he keeps me company when I'm writing so I appreciate him a lot too. So I guess I'd have to say I'm partial to both cats and dogs. Honestly, I am an equally opportunity pet person—I like them all!
10. Do you have any social media sites where fans and readers can follow you?
Follow me @trixcook on Twitter!