I listened to the audiobook of Kasie West books the Fill-In Boyfriend, On the Fence, The Distance Between Us, and P.S I Like You. Seriously guys, I love love the narrators on these audiobooks they are Shannon McManus narrates the Fill-In Boyfriend, P.S I Like You, On the Fence and Jorjeana Marie narrates the The Distance Between Us. These contemporary reads are so amazing because it highlights different topics surrounding the teenagers although in most of the times I get annoyed by the characters in the book, still I appreciate the message behind this book nonetheless.
P.S. I Like You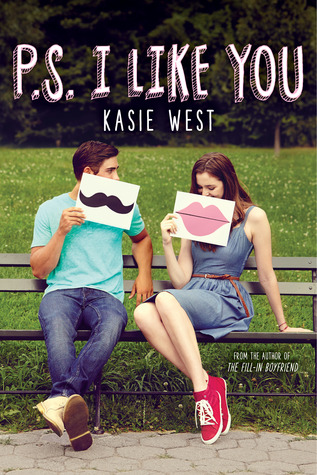 Published on July 26, 2016 by Point
Genre: Realistic Fiction, Contemporary, Young Adult, Romance
Rating: ★★
Goodreads//Amazon//Book Depository//Fully Booked//National Bookstore
Synopsis:
Signed, sealed, delivered…
While spacing out in chemistry class, Lily scribbles some of her favorite song lyrics onto her desk. The next day, she finds that someone has continued the lyrics on the desk and added a message to her. Intrigue!
Soon, Lily and her anonymous pen pal are exchanging full-on letters—sharing secrets, recommending bands, and opening up to each other. Lily realizes she's kind of falling for this letter writer. Only, who is he? As Lily attempts to unravel the mystery and juggle school, friends, crushes, and her crazy family, she discovers that matters of the heart can't always be spelled out…
---
Review:
It's my first time to read Kasie West books or should I say I listened to the audiobook of this book. The narrator Shannon is incredible, I love her voice. Because of that it keeps me to listen more on the story – it's engaging and fantastic.  However, I DIDN'T LIKE the story. It's just a plain and cliché story, if I read it somewhere 13 or 15 years old I may probably love it.
But how?
Although Lily is somehow relatable to me, we didn't have any connection. I want more character build up in the story not only just for the romance.. I want to see her how she loved her parents especially her dad even if it's in Lily's nature to be a sardonic.
I super super adored her parents!! They are so cute even her family. Her family is what attracted me the most.
Plus, the romance… okay I admit, it was filled with so excitement about them but as I ponder about it this is not what I expect it to be. This is a HEA story but I wasn't happy.
I don't know what is the moral story of P.S I Like You aside from the fact that she finally knew who is her pen pal.
---
On the Fence
Published on July 1, 2014 by HarperTeen
Genre: Realistic Fiction, Romance, Young Adult, Contemporary
Rating: ★★★★★
Goodreads//Amazon//Book Depository//Fully Booked//National Bookstore
Synopsis:
For sixteen-year-old Charlotte Reynolds, aka Charlie, being raised by a single dad and three older brothers has its perks. She can outrun, outscore, and outwit every boy she knows—including her longtime neighbor and honorary fourth brother, Braden. But when it comes to being a girl, Charlie doesn't know the first thing about anything. So when she starts working at chichi boutique to pay off a speeding ticket, she finds herself in a strange new world of makeup, lacy skirts, and BeDazzlers. Even stranger, she's spending time with a boy who has never seen her tear it up in a pickup game.
To cope with the stress of faking her way through this new reality, Charlie seeks late-night refuge in her backyard, talking out her problems with Braden by the fence that separates them. But their Fence Chats can't solve Charlie's biggest problem: she's falling for Braden. Hard. She knows what it means to go for the win, but if spilling her secret means losing him for good, the stakes just got too high.
---
Review:
I love love love the story. There are many reasons why this book deserves a 5 star:
Charlie is one of the boys. Her mother died when she was little so she didn't have a chance to get to know her. She felt guilty and jealous because her brothers' have memories with their mom.
It doesn't focus on the growth of one character. I saw everyone how they changed.
Charlie's family is the craziest and funniest.
Since Charlie is the only girl in the family (she has 3 brothers) there's a moment wherein I saw how guys saw their sisters. I don't know about the whole thing about brothers/sisters because I don't have a brother.
when Charlie wears makeup her brothers went wild and said "it's not you".
when her brother Nathan have a love life problem and Charlie wants to help him & gives him advice and Nathan said you're not a normal girl.
Do I have the right to judge the brothers? NO. But it is disheartening to see that it is the problem. I know they are just over protective of their sister but the way they see her it's just shaking my head. I think it's not also for the brothers/sisters' relationship but to everyone too. There's no so called "Normal Girl/Boy", everyone is perfect human being.
on the other hand, the romance in the book is eccentric. Charlie's problem wants to feel like a girl – how it feels like to treat like a girl given she don't have a mom or aunt to gives her advice and can talk girly thing. Enter Braden, her childhood friend told her she should be herself on the dating stage (because Charlie is an athletic and tough girl) but she shows to her date the other side of her which is unlikely Charlie. BUUTTTT lo and behold. No words can express whose Charlie ended up with. All I can say is I'm glad that at the end of the story she now realized and fully embrace herself.
---
The Distance Between Us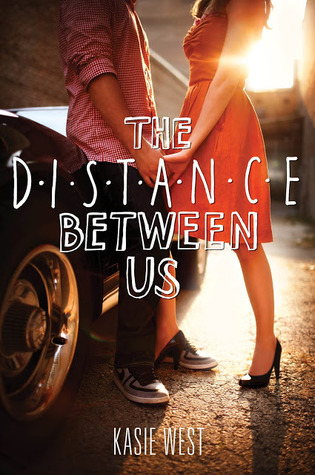 Published on July 2, 2013 by HarperTeen
Genre: Realistic Fiction, Romance, Young Adult, Contemporary
Rating: ★★★★★
Goodreads//Amazon//Book Depository//Fully Booked//National Bookstore
Synopsis:
Seventeen-year-old Caymen Meyers studies the rich like her own personal science experiment, and after years of observation she's pretty sure they're only good for one thing—spending money on useless stuff, like the porcelain dolls in her mother's shop.
So when Xander Spence walks into the store to pick up a doll for his grandmother, it only takes one glance for Caymen to figure out he's oozing rich. Despite his charming ways and that he's one of the first people who actually gets her, she's smart enough to know his interest won't last. Because if there's one thing she's learned from her mother's warnings, it's that the rich have a short attention span. But Xander keeps coming around, despite her best efforts to scare him off. And much to her dismay, she's beginning to enjoy his company.
She knows her mom can't find out—she wouldn't approve. She'd much rather Caymen hang out with the local rocker who hasn't been raised by money. But just when Xander's attention and loyalty are about to convince Caymen that being rich isn't a character flaw, she finds out that money is a much bigger part of their relationship than she'd ever realized. And that Xander's not the only one she should've been worried about.
---
Review:
How am I supposed to be normal again after reading this book? or normal is just an understatement? I'm not gonna lie, it's a cliché story BUT I'm completely hooked at it.
The prince and the pauper with a twist.
Caymen Meyers is different from what Xander Spence met in his whole life. Caymen helps her mom runs their doll business and their doll business was not running smoothly because of the financial problems. She is a sarcastic and witty. On the other hand, Xander Spence is a drop dead gorgeous. An heir to their family business. He is not like the stereotypes of a rich man – arrogant and rude. He is actually a gentleman. However, Caymen's mother doesn't want her to mingle with the rich person because of their differences.
The narrator of the book is Jorjeana Marie. At first, I'm not used to her reading Kasie West books because the On the Fence and P.S. I Like You is narrated by Shannon McManus, even so, Jorjeana's narrating is good.
Although I don't relate on how the story went, I actually loved it! It is so perfectly good especially at the ending. The fluffiness of this contemporary book is enough for me.
The story also focuses on the "FOLLOW YOUR DREAMS" things because both Caymen and Xander has their own passion but they can't do it because of family matters. I myself can relate to that so that made me hooked on this story.
---
The Fill-In Boyfriend
Published on May 5, 2015 by HarperTeen
Genre:  Realistic Fiction, Romance, Young Adult, Contemporary
Rating: ★★★★★
Goodreads//Amazon//Book Depository//Fully Booked//National Bookstore
Synopsis:
When Gia Montgomery's boyfriend, Bradley, dumps her in the parking lot of her high school prom, she has to think fast. After all, she'd been telling her friends about him for months now. This was supposed to be the night she proved he existed. So when she sees a cute guy waiting to pick up his sister, she enlists his help. The task is simple: be her fill-in boyfriend—two hours, zero commitment, a few white lies. After that, she can win back the real Bradley.
The problem is that days after prom, it's not the real Bradley she's thinking about, but the stand-in. The one whose name she doesn't even know. But tracking him down doesn't mean they're done faking a relationship. Gia owes him a favor and his sister intends to see that he collects: his ex-girlfriend's graduation party—three hours, zero commitment, a few white lies.
Just when Gia begins to wonder if she could turn her fake boyfriend into a real one, Bradley comes waltzing back into her life, exposing her lie, and threatening to destroy her friendships and her new-found relationship.
---
Review:
The start of the story is pretty much getting on my nerves because:
Gia and her friends are the popular girl group in the school. Then one of her friend named Jules is the meanest of them all.
Gia and the real Bradley broke up on the day of her prom. Then, she finds a fake Bradley to be in the prom. She did that because her friend Jules wants to get her friends and also her being an ALPHA on the group.(!!!)
Though the story is like the set of the realistic movies, the story wants to tell us that:
you don't need the validation from other people.
sometimes, you don't need to be afraid to show what you feel.
I also loved the scene where they address the use of social media on how it affects the relationship.
Better communication + you don't need validation from other people = best story for millennials. I would add this to a coming-of-age story.
I absolutely enjoyed reading her books mix of self-discovery, family, and friendships.
What do you think about her books??