It is my 2nd time around to read a book set in an Alien World, the first one was Broken Skies by Theresa Kay. I admit that "this Alien world thing" is so cool even though it sounds weird. Then I started to read the 2 parts in the Lux Series and I have so many emotions on these two. To start of the Lux Series is about Katy who recently moved in in West Virginia. He lost her father because of cancer, so she and her mom decided to get a fresh start. Her neighborhood is somewhat creepy because of the Alien thing and then she met the twins – Dee and Daemon that changed her life.
So that's how I can describe the series since I haven't finish reading the book 3,4, and 5.
---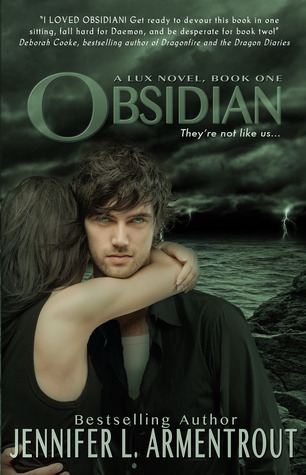 Published on May 12, 2012 by Entangled Teen
Genre: Fantasy(Paranormal), Young Adult, Romance
Rating: ★★★
Synopsis:
Starting over sucks.
When we moved to West Virginia right before my senior year, I'd pretty much resigned myself to thick accents, dodgy internet access, and a whole lot of boring… until I spotted my hot neighbor, with his looming height and eerie green eyes. Things were looking up.
And then he opened his mouth.
Daemon is infuriating. Arrogant. Stab-worthy. We do not get along. At all. But when a stranger attacks me and Daemon literally freezes time with a wave of his hand, well, something… unexpected happens.
The hot alien living next door marks me.
You heard me. Alien. Turns out Daemon and his sister have a galaxy of enemies wanting to steal their abilities, and Daemon's touch has me lit up like the Vegas Strip. The only way I'm getting out of this alive is by sticking close to Daemon until my alien mojo fades.
If I don't kill him first, that is.
---

Review:
The characters in the book is amazing yet annoying. First off, Katy, I really love her character because she's a strong lady, empathetic and especially when she's a bookish and a blogger. Though she made decisions that could irritate you, she's irresistible nonetheless. Second, Dee, she is one of my favorite character because of her courageousness. Third, Dameon, just to let you know, he is insufferable. I hate him. All the words of cockiness are meant to him. Although he is not a likeable character, you'll see the good side of him.
Additionally, I also get tired with the bickering between Dameon and Katy.
The writing of the story is great, I don't have any negative opinions about it. However, there are scenes that bugs me off like there's this chapter that are pretty intense and then suddenly they declare a truce. I'm not fine with that.
On the bright side, the story shows how they love their family both Katy and Dameon. Katy still hurt since her dad passed away and her love to her mom. Dameon being an overprotective to his sister especially they are an alien, they have limitations and boundaries to follow to.
---
Published on August 14, 2012 by Entangled Teen
Genre: Fantasy(Paranormal), Young Adult, Romance
Rating: ★★★★
Synopsis:
Being connected to Daemon Black sucks…
Thanks to his alien mojo, Daemon's determined to prove what he feels for me is more than a product of our bizarro connection. So I've sworn him off, even though he's running more hot than cold these days. But we've got bigger problems.
Something worse than the Arum has come to town…
The Department of Defense are here. If they ever find out what Daemon can do and that we're linked, I'm a goner. So is he. And there's this new boy in school who's got a secret of his own. He knows what's happened to me and he can help, but to do so, I have to lie to Daemon and stay away from him. Like that's possible. Against all common sense, I'm falling for Daemon. Hard.
But then everything changes…
I've seen someone who shouldn't be alive. And I have to tell Daemon, even though I know he's never going to stop searching until he gets the truth. What happened to his brother? Who betrayed him? And what does the DOD want from them—from me?
No one is who they seem. And not everyone will survive the lies…
---
Review:
It is an intense sequel that surely will hold your grip.
The character build-up in the story is so so good. I get to know more about Katy, Dameon, and even the other characters.  Although Katy and Dameon can't stop bickering and it irritates me. You see, there is another character that will test how much they trust each other. I know it's only the beginning of "the-possibly-someone-will-die".
Additionally, the story is very interesting because more revelations came up and seriously that is insane.
And there will be a love triangle going on here but this is "the kind of love triangle that I want". It's much more exciting than the first book.
The story shows the trust of the characters. I mentioned above that this new character will test them and it's awesome because it gets to know more the characters.
Read this if….
You're a fan of paranormal and you love a fast pace story.
Place it was set…
West Virginia