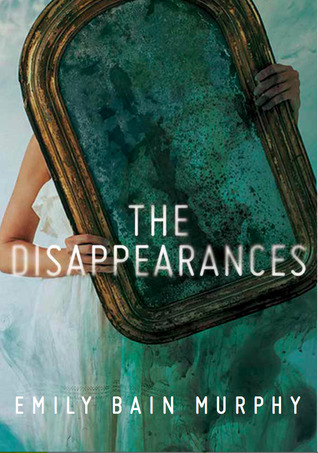 Published on July 4, 2017 by HMH Young Book Readers
Genre: Mystery, Historical Fiction, Young Adult
Rating: ★★★★
Amazon//Goodreads//Barnes and Noble//Target
Synopsis:
What if the ordinary things in life suddenly…disappeared?
Aila Quinn's mother, Juliet, has always been a mystery: vibrant yet guarded, she keeps her secrets beyond Aila's reach. When Juliet dies, Aila and her younger brother Miles are sent to live in Sterling, a rural town far from home–and the place where Juliet grew up.
Sterling is a place with mysteries of its own. A place where the experiences that weave life together–scents of flowers and food, reflections from mirrors and lakes, even the ability to dream–vanish every seven years.
No one knows what caused these "Disappearances," or what will slip away next. But Sterling always suspected that Juliet Quinn was somehow responsible–and Aila must bear the brunt of their blame while she follows the chain of literary clues her mother left behind. 
As the next Disappearance nears, Aila begins to unravel the dual mystery of why the Disappearances happen and who her mother truly was. One thing is clear: Sterling isn't going to hold on to anyone's secrets for long before it starts giving them up.
---
Review:
Wow! What a wonderful book filled with so many literature references, metaphor, and magic.
I was instantly struck because of how amazing the premise is. The disappearances is about how you'll lose your senses, reflections, and colors. Every seven years, four towns experiences disappearances –  It is a mystery that needs to be solve. So, they have Variants –  a temporary magic to actually feel what they lost.
I admit that the pacing of the story is slow yet liked it. It gives time to know all the characters and to feel what it is like to not be able to see your reflection in the mirror, not hearing the person you loved, and to smell the aroma of your favorite food, so all in all I envisioned it to be a gray world. I also enjoyed to be in Aila's shoes though it is hard when everyone is hating her because of what her mother did before, but she's a girl who is a strongest but reserved. She loves her family dearly. I resonate well to Aila.
The writing is well versed and visionary, that is also what made me love this book. The author uses a lot of literature references like Shakespeare and poetic books.
As such, this is not a romantic book for me although there has a romance build up in the book but it is the story about finding true value in what you have. We always take for granted all the things we have and this book made me feel what if I suddenly lose touch of everything?
Read this if……
You love a good mystery with magic that set during World War 2.
Settings….
Gardner, Charlton, Sterling, Sheffield, and Corrander.
---
About the Author:
Emily Bain Murphy grew up in Indiana, Hong Kong, and Tokyo, and has also called California, Connecticut, and Massachusetts home.

She loves books, Japanese karaoke, exploring new cities, and anything with Nutella. Her debut YA fantasy, THE DISAPPEARANCES, will be published by HMH Books for Young Readers and Pushkin Press in July 2017.

Murphy is represented by Peter Knapp at Park Literary & Media.

She currently lives in St. Louis with her family and is at work on her second novel.
Social Media:
Twitter: www.twitter.com/ebain
Instagram: www.instagram.com/ebmwrites
Website: www.emilybainmurphy.com
---
Giveaway:
The Prize: 3 Copies of The Disappearances by Emily Bain Murphy
Open to US Residents Only