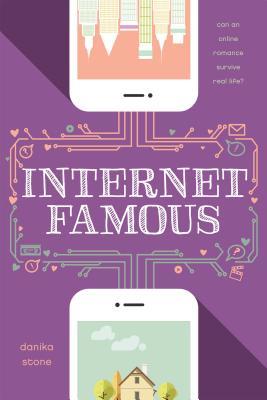 Published on June 6, 2017 by Swoon Reads
Genre: Contemporary, Young Adult, Romance
Rating: ★★★★
SYNOPSIS:
High school senior and internet sensation Madison Nakama seems to have it all: a happy family, good grades, and a massive online following for her pop-culture blog. But when her mother suddenly abandons the family, Madi finds herself struggling to keep up with all of her commitments.
Fandom to the rescue! As her online fans band together to help, an online/offline flirtation sparks with Laurent, a French exchange student. Their internet romance—played out in the comments section of her MadLibs blog—attracts the attention of an internet troll who threatens the separation of Madi's real and online personas. With her carefully constructed life unraveling, Madi must uncover the hacker's identity before he can do any more damage, or risk losing the people she loves the most… Laurent included.
---
REVIEW: 
There's something about the way Danika writes the story. It's very sentimental and a feel good book.
The story is about Madi who has a massive follower on her blog. So yeah, she's a famous blogger in United States. Then, someone attacks her on social media even threatened her private life.
Madi is a loving person because she truly cares for her family and friends. Aside from that she's a dedicated person. I know most of us can relate to her because of her quirky attitude, and the blogging life. Enter Laurent, well I thought he's a girl because of his name…HAHA but no, he's a guy. Laurent is a French dude studying in New York majoring in Photography. So Madi and Laurent have same similarities. And their romantic build up is so so cute. But not all romantic stories will have a happily ever after without challenges, yes they had lots of struggles especially as an individual person that affect their relationships and what strucks me the most is that they've been in LONG DISTANCE RELATIONSHIP.
I haven't seen books talk about LONG DISTANCE RELATIONSHIPS in today's generation. Usually, romances are about being seen each other and feel their presence but what if they're hundred miles away from you? For me, this is an unusual topic for Young Adult stories because we're taught that being inlove should be eating foods together, have an amazing road trip, and to always feel their hugs and kisses. But little did we know, love is much more than that.
IT is a story that fits for millennials, tackles about family, blogging life, and relationships.